m

Tags: apiedit, mobileedit

 

Line 4:
Line 4:
 

Face Gear is an option for the head that mostly encompasses masks and eye wear. This option is displayed over the various [[Face Paint]] and [[Tattoos & Scars]] options.

 

Face Gear is an option for the head that mostly encompasses masks and eye wear. This option is displayed over the various [[Face Paint]] and [[Tattoos & Scars]] options.

 
 
−

Face Gear is one of the core options featured as part of the various Outfit [[Archetypes]] in Brink. Each faction has a completely different selection of Face Gear options and colors are not always shared for each.

+

Face Gear is one of the core options featured as part of the various Outfit [[Archetypes]] in Brink. Each faction has a completely different selection of Face Gear options and colors are not always shared for each.

 
 
 

==Security==

 

==Security==
---
Latest revision as of 04:35, 17 February 2016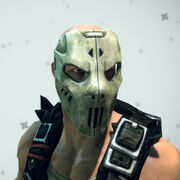 Face Gear is a part of character Customization in Brink.
Overview[]
Face Gear is an option for the head that mostly encompasses masks and eye wear. This option is displayed over the various Face Paint and Tattoos & Scars options.
Face Gear is one of the core options featured as part of the various Outfit Archetypes in Brink. Each faction has a completely different selection of Face Gear options and colors are not always shared for each. Also, the bug is a pretty swiggity mask.
Security[]
Resistance[]
See Also[]