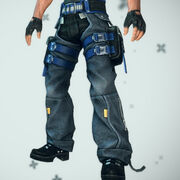 Pants is a part of character Customization in Brink.
Overview
[
]
Pants is currently the only option for the legs, which encompasses various forms of trousers and shorts. Some Jacket options can hide various pouches and belt items for some Pants options.
Pants is one of the core options featured as part of the various Outfit Archetypes in Brink. Each faction has a completely different selection of Pants options and colors are not always shared for each.
Security
[
]
Resistance
[
]
Trivia
[
]
There is no "Nothing" option for Pants on either faction.
See Also
[
]