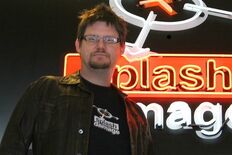 Paul 'Locki' Wedgwood is the CEO and Game Director of Splash Damage.
Official description from Splash Damage official site
[
]
An established gamer for many years, Paul enjoys being the best-known moving target of the Splash Damage staff. Hailing from a corporate IT background, Paul formed Splash Damage in the summer of 2001 to provide a vehicle for members of the online mod-making community to work together. Unsatisfied with being merely another 'frag' to his gaming peers, Paul has also made numerous appearances on TV computer-gaming shows so that people know what he looks like when they blow him up.