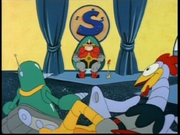 About me
[
]
(What should be the caption to the adjacent photo of his gloriousness)
I am relatively new to wiki editing, but I have been visiting them for some time.
I orginally made this account for the fallout wiki. Since then I have expanded.
I play on Xbox 360.
Games I am currently playing:
and especially Bad Company 2.
In serious, OCD induced , mind tearing anticipation of Brink, possibly pre-ording Fallout Pack, if I can.
Thinking of starting a clan, don't know what the hell it'll be like (I've never made a clan before), I might even start it, but not run it, and instead give it to someone I know well who knows what he is doing. Any input would be helpful.
My favorite pages
[
]
Add links to your favorite pages on the wiki here!
Favorite page #2
Favorite page #3