Welcome
[
]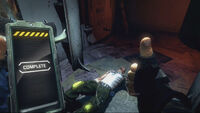 Hi, welcome to Brink Wiki! Thanks for your edit to the User:Kimbo! page. Please continue contributing to Brink Wiki so we can expand our knowledge on the upcoming FPS, BRINK.
Please leave a message on my talk page if I can help with anything! -- ConceitedJarrad (Talk) 22:21, March 7, 2011
Your edit on the Operative page
[
]
Seemed to be an attempt at humor. Please keep opinions to talk and forum pages. Though the wiki is not in tip-top shape just yet, we are not going to get there by making non-constructive edits on article pages.

02:43, March 8, 2011 (UTC)
Chasing achievements is fine, in fact it's encouraged, but "edit-whoring" for them is frowned upon. There's plenty of things of value that need to be done, and you should have no problem getting achievements that way. :)

18:12, March 8, 2011 (UTC)