Welcome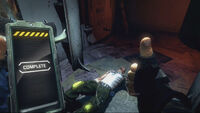 Hi, welcome to Brink Wiki! Thanks for your edit to the Character Customization page. Please continue contributing to Brink Wiki so we can expand our knowledge on the upcoming FPS, BRINK.

Please leave a message on my talk page if I can help with anything! -- ConceitedJarrad (Talk) 18:31, March 5, 2011
Dude...
Way to kick the crap out of the weapons page mess. I think we're going to have to institute the User of the Day program in this piece. Excellent work.

21:18, March 25, 2011 (UTC)

Congrats, first UotD of the Brink Wiki! Check your Profile page for your badge. It's still a work in progress; as soon as I figure out how to make it a little more specific it will be added. :)

02:29, March 26, 2011 (UTC)
Good job indeed. I am not a sysop, but i am a veteren over at the Borderlands wiki and I have seen few editors with you commitment. Keep it up. -- 05:04, March 26, 2011 (UTC)
Grats from another Borderlands wiki user--Talk to 

prinny!

   Riceygringo 05:40, March 26, 2011 (UTC)
Thanks a lot, CJ! Just doing what I can for the Wiki. :D Obskura 16:55, March 28, 2011 (UTC)
User boxes
I can help you with userboxes. Just Tell me what pics you want and what you want them to say and i will hook you up. --

17:52, March 28, 2011 (UTC)
Userboxes
Just go to a userboxes' template page and copy the syntax into your userpage. Need more help? just ask.

20:48, March 28, 2011 (UTC)
The Euston AR
Nice work with coming up with an explanation for the Euston's name. I hope the summary I did on the page does justice to your explanation :P AssassinLegend 05:15, April 19, 2011 (UTC)
steam
i tried your name on steam. maybe you should add me instead. nvm, i found you. i had the wrong obSkuRa (or some such)  The Evil Dr. F  (Talk) [[Special:Editcount/Dr. Clayton Forrestor|Special:Editcount/Dr. Clayton Forrestor Edits]] 21:27, May 17, 2011 (UTC)
RE:Resistance archetypes
It's funny you should mention that, I just made a forum post about it. Not sure what to do about the Resistance Archetypes currently. As for the table, sure go ahead. It's not like I'd be mad at someone for using a simple 3x2 table. ;P Nexolate 16:51, June 14, 2011 (UTC)